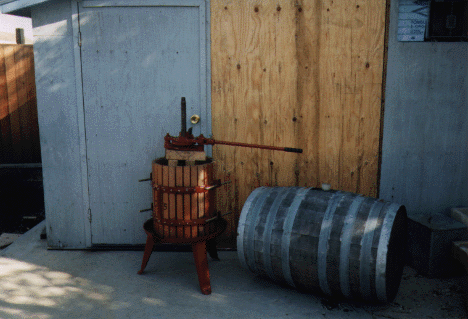 1997 Cabernet Sauvignon
Dominic Canale Vineyard, Dry Creek, Sonoma
October 5, 1996
I found these grapes at almost the last chance for this year by answering an ad in the local newspaper. My freinds Don Dufresne and Mark Staffanou are partners in this wine and we have 1500 lbs. of fruit. It should yield about 100 gallons of wine. After getting the Must (crushed and stemmed grapes and juice) loaded in the truck, we took a short tour of Dominic's cellar and tasted some of his wines (very good). We then went over to his house and he opened a couple of bottles of wine. Then his wife put out salami, cheese and french bread (or lunch) for us to munch on. Dominic his wife and two sons were all there and we could have stayed and talked for the rest of the day. But back to Petaluma to take care of the wine. Need to mention that Dominic's crushing setup was first rate and made things extreamly easy and we had the must in the truck in no time. We Brought the must home and did a sugar adjustment to it today and need to add some acid tommorrow to bring up the acid, but not a big deal and will elaborate more later on. So far the must is in the cellar and resting till I get yeast tommorrow.
Picked October 5th 1996
Sugar 25.6 degrees brix at harvest
T.A. at harvest .538
Water added to bring sugar to 23.4 degrees Brix
Increased acidity to .72 which should drop a bit during fermantation
Pitched with French Red (WY20) yeast on 10/6/97

October 18, 1997
Pressed Must and put in two 15 gal. american oak barrells and the rest in stainless steel beer kegs. We got about 103 gallons of wine

October 30, 1997
Noticed the wine had picked up a bit of a skunky odor, so time to rack and airate. We lost about 9 gallons in racking and spillage during process and now have 92 gal. wine. Tested free SO2 and still have about 40 ppm.

August 4, 1998
Have racked the wine and rotated the stainless to oak about 4 times since November and have about 88 gals at this time.

September 30th 1998
bottled 30 gallons out of the 15 gal. american oak and refilled the oak barrels from the stainless. Came out with 142 bottles and now have about 58 gals left to bottle.
---


This page accessed
times since 8/4/98.

Page created by: Colin Perry
this page last updated on: Tuesday August 4th, 1998